Hi Everyone!
TL;DR
Wins: Volunteers and feedback from the Open Source announcement
Challenges: Video production and ongoing community growth
Plans: Refocus on community growth
Development Progress
The video to show off our unique user interface around what we are calling our Action and Autoresolution system has been taken longer than I had hoped. We're making progress, but I'm expecting this will put us about a month behind for our Kickstarter campaign.
On the other side, we have had an influx of volunteers join us after the Open Source announcement. Many of them have been very active. We have had movement in several areas, and though it isn't fast, it's steady. I couldn't be more pleased. If that were not enough, our volunteer developers have turned out to be fantastic people in general. They are helping each other in Slack, and they are contributing to the design of Mythic Table. I feel very fortunate they are here.
The Numbers
Community Growth has been considerable for September, but it's trending downward. Our Open Source announcement was very successful, but activity fell away shortly after. To account for this falloff, I've adjusted the below chart to show a growth of 300 new members per month as opposed to the forecasted 800.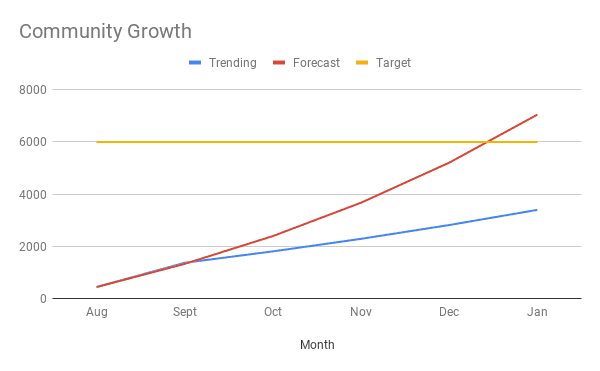 As our Kickstarter results are going to be tied directly with the size of our community, our long term forecast will look a bit like this: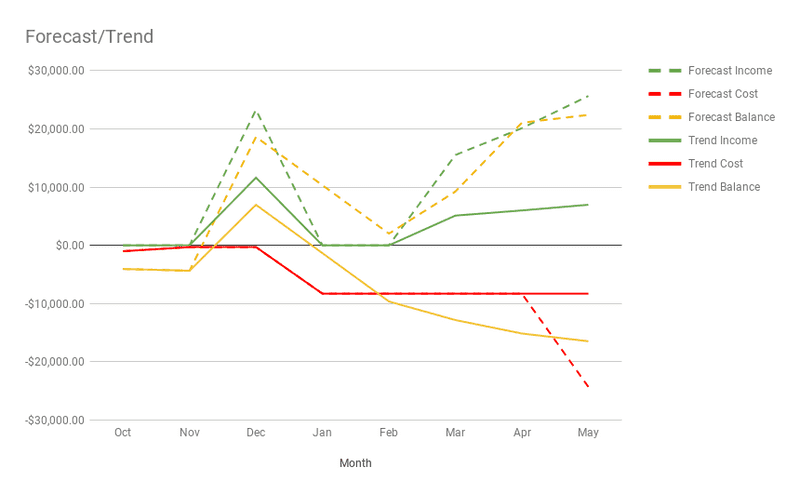 As that yellow line starts to fall below 0, we're going into debt. We need to keep that from happening. In March we hope to ramp up development and perhaps take on some fulltime developers. With this trend, we will not be able to do that.
Here is our September Summary.
Plans
Last month we spoke about the term Critical Number and how that number can define the success or failure of a business venture. In our previous report, we isolated our Community Membership as our Critical Number, and that has not changed. As the sign-ups begin to slow down, our forecast proves how important this number is.
Our focus needs to be on community growth. We need to find new and exciting ways to get ourselves out there. In my previous report, I asked many of you to join us on our developer Slack channel. Now, I'm going to ask for the same thing, but instead of developers, I'm looking for community advocates and managers. If you have any experience in this area or if you'd like to help, please join us on our Slack server and jump in the #community channel.