Hi, everyone!
November has been a slow month for Mythic Table. We have continued to experience slow community growth, but we have been making advancements in other areas.
TL;DR
Wins: Released our first Mock UI Video and incorporated as a Non-profit
Challenges: Community growth remains our top challenge
Plans: Continue our community growth campaign
Action Items: Support us on Patreon! Share Mythic Table with your friends.
Development Progress
We released our first Mock UI Video. We are thrilled with how it turned out and we have learned a lot in the process. We are very thankful to Jane Tsai, Edward Austin of Skintag Productions, and Jose Bonilla.
This month has seen development efforts in the areas of continuous integration and deployment, the dice rolling feature, our single sign-on authentication feature, and more. Our volunteer team has grown to 35, and we've been actively working on improving our onboarding process.
Many of you have asked us to create a Patreon page, and we have done just that. The process was very straight forward. Using Patreon is a new strategy for us, and we don't know how it will go. Already we have a dozen Patrons who have joined the development team on Discord. It is still too early to tell, but we are hoping that this will, at least cover our operational costs.
Finally and perhaps the most exciting new development has been the incorporation of Mythic Table Foundation as a Non-profit. We have wanted to do this for a while, and with the Patreon page, we thought now might be the right time. You can read more about this here.
The Numbers
As before, Community Growth continues to be our Critical Number. November has been an improvement over October, with an average of 4 new subscriptions per day. Unfortunately, this is not nearly enough. The result is we've been forced to push back our time tables. There is more on this later.
Chart 1: Newsletter subscriptions over time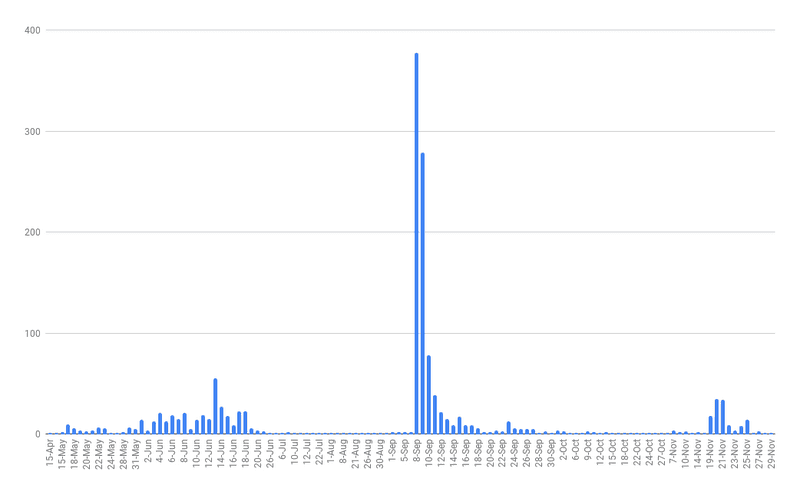 Chart 2: Community Growth Trend vs. Forecast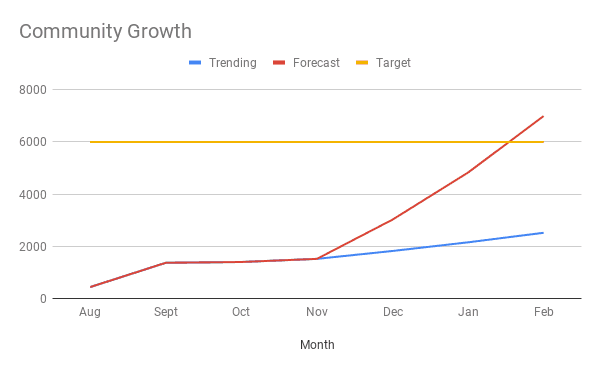 Our target remains at 40 new newsletter subscriptions per day. Sarah has been hard at work building plans and strategies for doing this, and we have a couple of ideas we hope to put into motion soon. In the meantime, she can use all the help she can get. We've identified two things you can help with if you're interested:
Join us as a community champion and coordinate with Sarah over Slack Share our mission with your friends
Forecast and Trend
This month's report shows the most significant divergence from our forecast yet. This report shows that the forecasted development has a different timeline in addition to modified values. The reason for these delays is that we need a minimum community size before we attempt to run a Kickstarter or Indiegogo campaign. Doing so any earlier is unlikely to earn us enough to be able to fund the first playable.
Discoveries:
Continued slow community growth
Adaptation:
Delayed milestones for trending timeline by two additional months
Delayed milestones for forecasted timeline by one month
Adjusted staffing for trending timeline to ½ developer.
Chart 3: Overall forecast vs. trend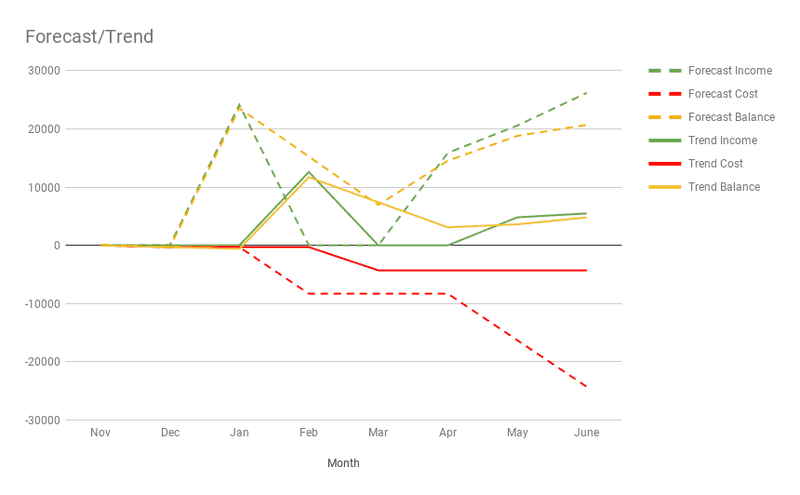 The dotted line shows where we would like to be, and the solid line shows where we are trending. The forecast shows an income spike a month early than the trend. This difference in timing is because our recent changes accounted for slower community growth. As a result, we will be delaying the funding campaign and the development work a further month.
Here is our November Summary
Plans
We have been planning and reporting for several months now. During this time, we have made it known that community growth is our Critical Number. As such, the success of the project depends greatly on us achieving our targets for this number. This report shows the results of our not making these targets. Dates slip, and development start times are delayed.
To recover, we must get our community growth back on track. Our target is 40 new subscribers per day. There is nothing we can do to change the results of the previous two slow months. Instead, we need to look forward and do our best. We hope to be able to count on your help to do this.
Thanks for your support and your encouragement. Without it, there would be no Mythic Table.
--Marc
Mythic Table Foundation Director