Welcome to 2020!
We are excited to announce that our new strategy to focus on development over community growth has been successful.
TL;DR
Wins: Authentication, planning, and Design Sprints
Challenges: Available time
Plans: Buckling down for February
Community Action Items: Be patient and send us some love <3
Development Progress
The following is a shortlist of our development achievements this month:
Second cluster for Authentication Service
Placeholder Authentication with Single Sign-On (SSO)
Hackathon planning and process documentation
First Design Sprint Focused on Campaign Management
We had expected our first Hackathon month to be rough. A lot of planning and ironing out of processes needed to be done. Progress was slow, but it was steady. We struggled with the new Authentication Service and it was difficult to coordinate developers across the various time zones. Despite these challenges, we feel like we are on track to make some serious headway in February.
On a related note, we're very excited to announce that Paul Grant, a talented designer, has joined the team. He has been leading the Design Sprints. These sprints show a lot of promise. We're confident this approach will lead to truly great user experience with our platform. Again, we are struggling to find time in which everyone can contribute, but we believe we will find a strategy that works well with our particular constraints.
The Numbers
As Community Growth has been deprioritized, we're temporarily changing our Critical Number. Until we deliver the First Playable, our Critical Number is going to be the number of Open issues in the First Playable Milestone. This milestone is public and it can be found here: First Playable
We are choosing this number because it is a simple way to track our progress. With our planning complete, it is easy for us to show how many issues/features remain. We currently have 15 open stories targeted for the First Playable.
Chart 1: First Playable Feature Burndown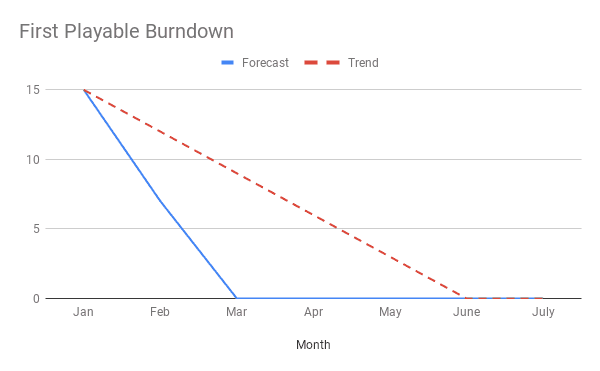 In this chart, we're forecasting to have the First Playable released near the end of March based on completing 8 features per month. So far we have not been able to demonstrate this ability. To account for that, the trending line shows a completion rate of 3 features per month which puts our release in late June.
Chart 2: Community Growth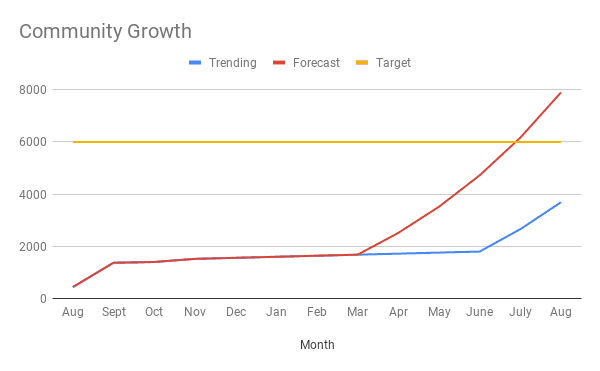 Though this isn't our Critical Number, we still want to share our expectations for community growth because of the delay in development. This chart assumes that we'll see a resumed growth in interest after the release of the First Playable.
Forecast and Trend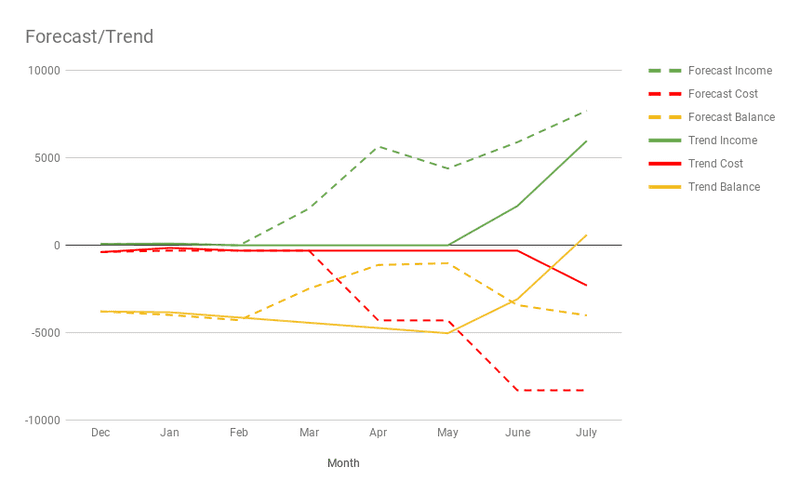 Putting all this together, we have plotted our finances forecast. In the following chart, there is a significant difference between the trend and the forecast which makes it a little difficult to read and understand. It helps to focus on a single color at a time and not the delay between forecast and trend.
Chart 3: Overall forecast vs. trend
The solid line indicates the trend which changes very little until June. At that time, we will release the First Playable, launch the Kickstarter, and prepare to hire a part-time developer at ¼ the rate.
The dotted line shows our forecast. This assumes we are able to buckle down and finish the First Playable in March. After that, we would launch the Kickstarter, hire a part-time develop at a ½ rate and ramp them up to fulltime by June.
Adaptations since December:
Reduced the Kickstarter estimates due to results learned from our Patreon campaign.
Further lowered expectations for community growth after First Playable to a more realistic number.
Here is our January Summary.
Income: $99.17
Expenses: $236.48
Balance: -$4,068.92
Community size by the end of January: 1600
Plans
Our Plans for February have not changed. Developing the First Playable is still our primary objective. We have all the tools and processes in place. We lack only the time. From now until the First Playable is complete we will be continuing the weekend hackathons. All of our developers are encouraged to make whatever arrangements they can to find the time to put towards this effort.
If you would like to help, please send us your support and encouragement. We're going to need it. For the time being, we're not going to be accepting any more developers on the project unless they are experienced developers and are serious about helping. If that's you, please let us know.
Thanks for sticking with us. We appreciate all your support and stay tuned for more news.
--Marc
Mythic Table Foundation Director