We would like to share another exciting Mythic Table Report!
TL;DR
Wins: We have been continuing to hold weekend hackathons to much success! Our onboarding process has been completed and is being rolled out. And we have finished a major feature, Campaign Management!
Challenges: COVID-19 is a huge concern
Plans: Holding to the course
Action Items: Focused drive in early April on in-game features.
Development Progress
Our development team has been working hard in their free time to pull off the following:
Onboarding process rollout
Campaign Management complete (mostly)
Database solution has been chosen and implemented
Three design interviews have been conducted
Improvements to our continuous delivery system.
The Campaign Management feature turned out to be a lot more work than we expected. We had a number of very successful hackathons to hammer it out and a lot of new volunteers jumped in to help. We were able to find a database solution at the same time and we even made improvements to a number of our systems. All in all, we're very happy with the progress
The Numbers
We are still pushing towards the first playable. You can follow our progress here: https://gitlab.com/mythicteam/mythictable/-/milestones/2
There is a burndown chart hosted by Gitlab, but we have had reports that you need to be logged in to see it. For the time being, consult the following chart.
Chart 1: First Playable Feature Burndown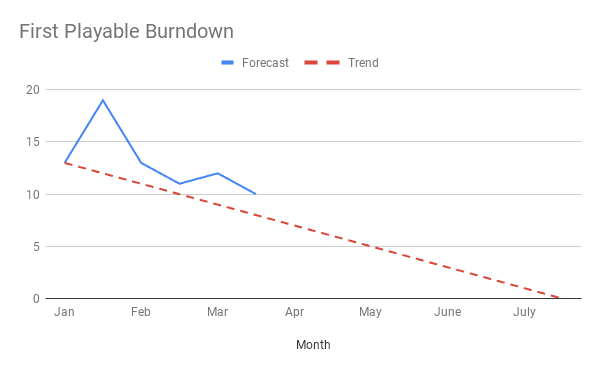 This chart shows a new issue was added mid-month and we were able to complete two items from our milestone. We're showing progress, but it is slow.
Financials
We are happy to report that this is one of the few months where we did not have the greatly adjust our expectations. Development is on track for the most part and the team is confident in a June release of the First Playable.
Chart 2: Financials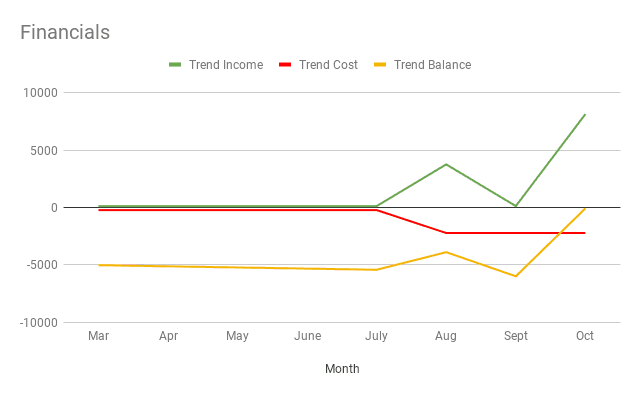 We've simplified this chart from our previous reports because we found that the forecasts were not very helpful. Instead, we are focusing on the reality of our progress.
Adaptations since February:
A very slight increase in community growth
Plans
For once, we are going to be holding our course. There will be no change in plans. We will continue our hackathons until we get this First Playable released. The pandemic has impacted us as it has other organizations. Many of our volunteers and team members are busy with their families and dealing with health and economic fallout. That being said, some of us have had recent changes in plans that open up more free time. This, however, seems to be the exception to the rule so we are not changing our forecast at this time.
A quick word about COVID-19
We would like to take a moment to say that we hope all of you are staying safe and healthy. These are difficult times and we all worry about our friends and families around the world. There has been a growing movement towards online role-playing and we are excited to see that so many of you are making adjustments to your daily rituals to help protect others. We are very proud to be part of this community.
We understand a lot of you are looking for virtual tabletop solutions and we urge you to please try solutions like Roll20, Fantasy Grounds, FoundryVTT, Astral Tabletop, d20pro, Maptools, Tabletop.io and any other great project out there. Keep rolling and stay safe. :)
Thank you so much for your support.
--Marc Faulise
Mythic Table Foundation Director