It's that time again. Get ready for another Mythic Table Report!
TL;DR
Wins: This has been our best month yet for development! Marc had a few weeks off from his day job so he was able to spend that time on developing MT! We have migrated and updated our website and logo, finalized our onboarding doc, and held a very successful giveaway of Mythic Table Stickers for our community!
Challenges: Time and contribution levels continue to be a challenge
Plans: Get our team more active!
Development
Our development team has been working hard in their free time to pull off the following:
Improvements to the Dice Roller
Drag and Drop characters from a placeholder library
Enabled character deletion
Player interactions in one campaign are no longer seen in another campaign
A "Logo Builder" was created to easily add a variety of logos to our marketing content
Tons of great design iterations We recently held a successful D&D session using what was ready of Mythic Table's interface. We made a video and would love to share but we had some sound issues and the results are not terribly entertaining. We will fix this and try again very soon!
The Numbers
We've had some increase in the number of new subscribers this month but not enough to change our plans, so we are continuing to push for the First Playable. On this front, we've done very well and completed 4 very significant tasks.
Chart 1: First Playable Feature Burndown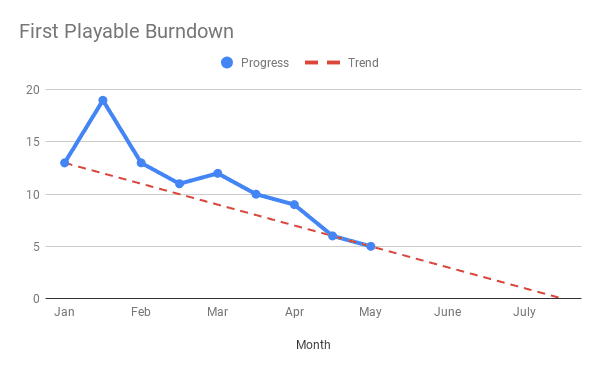 This chart shows we have been able to make great progress with closing tickets during this milestone. We are where we want to be!
Financials
We are happy to report that this is one of the few months where we did not have to greatly adjust our expectations. Development is on track for the most part and the team is confident in a June release of the First Playable.
Chart 2: Financials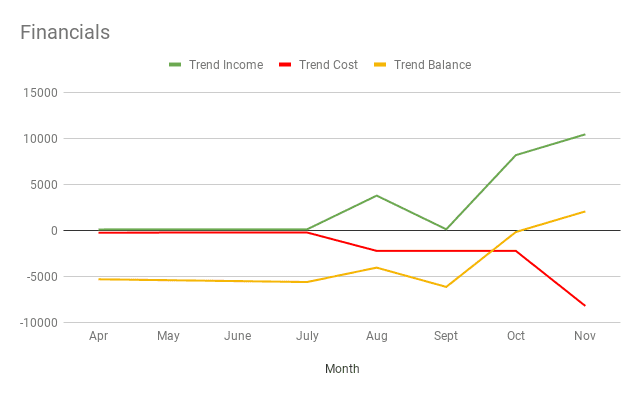 We've simplified this chart from our previous reports because we found that the forecasts were not very helpful. Instead, we are focusing on the reality of our progress.
Adaptations since March:
Another slight increase in community growth
Plans
We continue to push towards our first playable. We've seen a lot of progress from a small handful of active developers, but we have so many more volunteers that have gone idle. We've reached a point where contributing is much easier so we're going to try and revitalize our team if possible.
Once again, thank you for reading our report. Your continued support is very valuable to us.
--Sarah Kilby
Director of Communications, Mythic Table Foundation