It's that time again. Get ready for another Mythic Table Report!
TL;DR
Wins: The first pass at Character Editing was completed
Challenges: Time and contribution levels continue to be a challenge
Plans: First playable is within sight, we are trying to close the gap on the remaining tasks
Development
Our development team has been working hard in their free time to get Character Editing working. This involves the creation, editing attributes, and free movement of characters on the battlefield, storage in the backend store, and having those movements and changes reflected between clients.
Because of the size of this task as well as our challenges in getting developer contributions this month, we have had to change our timeline for when we can hit the first playable milestone. You will see this reflected in the Progress and Contributions section below.
In addition, many small bug fixes in the front end and authentication service were completed by our hard-working volunteers. Several community utility tools were also implemented and deployed on our Slack server.
With the character editing changes in place, we have only a few more features that are required before you can play a campaign with Mythic Table:
Character Library
Map management (moving between maps, adding maps, editing map properties) Once we are able to get these changes in, we look forward to you being able to run your first campaigns with Mythic Table!
Progress and Contributions
Due to fewer volunteer contributions this month, we've had to revise our projected first playable release date to September. Still, we continue to work hard and our progress has been steady.
Chart 1: First Playable Feature Burndown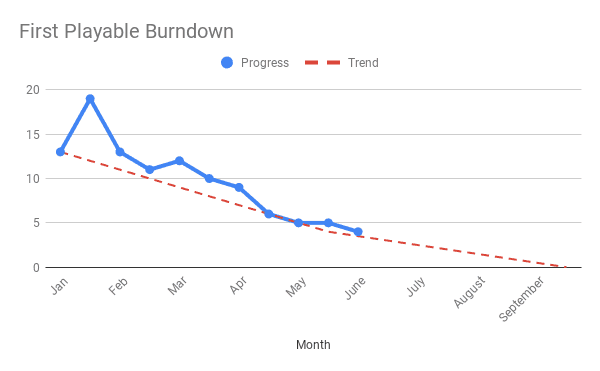 In past reports we've been focusing solely on the burndown towards First Playable; this time we acknowledge the hours of volunteer effort that have been contributed by the Mythic Table team. This month has seen over 190 hours of effort from five volunteers. This includes time spent in discussion, planning, social media, and development work. Starting with the next report we are going to focus on one of our contributors each month and describe a bit of what they do with Mythic Table and what brought them to be working on this project.
Financials
We are happy to report that this is one of the few months where we did not have to greatly adjust our expectations. Development is on track for the most part and the team is confident in a June release of the First Playable.
Chart 2: Financials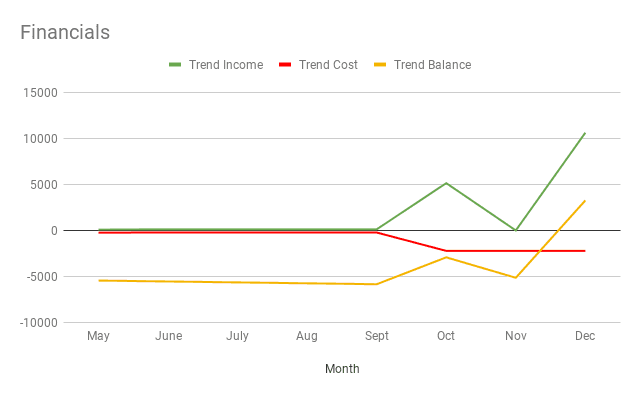 We had to delay our projections of income from patreon contributions and a future Kickstarter campaign due to our revised First Playable date.
Plans
We will continue to push towards our First Playable. To make this a reality, we need more contributors who believe in Mythic Table and that are willing to help. If that's you, please let us know!
Once again, thank you for reading our report. Your continued support is very valuable to us.
--James Hatheway, Co-founder and Director of Technology
Mythic Table Foundation