June has been a great month for Mythic Table
TL;DR
Wins: 10 new team members. Organizational Improvements, Character Library and File Storage
Challenges: Time and Infrastructure complexities
Plans: Finish the last remaining tasks for the First Playable
Development
June was a big month for us because we were finally able to tackle File Storage. This is a very important milestone. We needed our solution to be affordable and flexible. We went with Google Cloud Storage and we have developed the first couple of features using this technology. It was challenging but, in the end, we were successful.
At the same time, we ramped up our operations team with returning members and a new one. We've been hard at work making sure our infrastructure is cost-effective, stable, and flexible. We have a lot more work ahead of us but it looks promising.
We have had a lot of interest in Mythic Table this month and a number of new team members have come on board. This has shown us that we need to improve our onboarding process. This will take place over the next couple of months.
Finally, we are excited to announce that Sarah Kilby is transferring from the Director of Communications to the Director of Production. This is a new role for her and we are doing everything we can to support her in this transition. Sarah has been a great Community Champion and we are very excited to see what she can do as a Project Manager.
Chart 1: First Playable Feature Burndown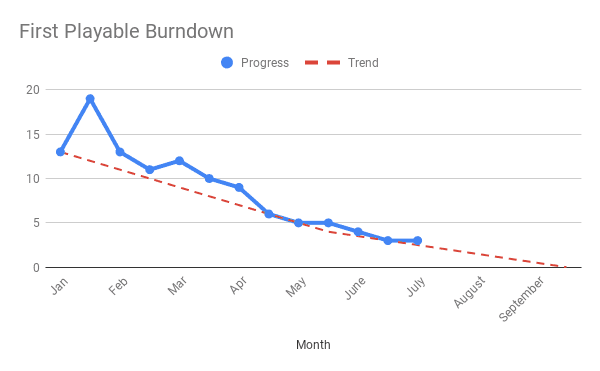 Our development has been slow this month. We have had a small group of volunteers put in about 335 hours in total. This includes onboarding, design sprints, website revisions, communication but a large portion of it was in development and operations work. This month has seen a single work item completed, but it was a big one and has put us in a great position for future improvements. Financials
Chart 2: Financials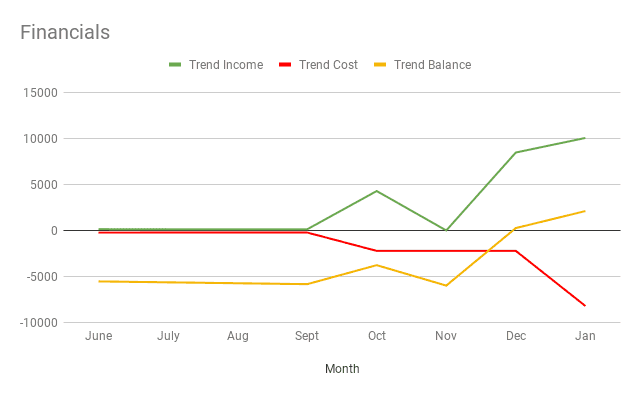 Our financial plan looks about the same but we made a correction in our community growth forecast which reduced our projected income slightly. We didn't make any additional adjustments so the plan is to continue working as we have.
Plans
As we draw closer to the completion of the First Playable we are trying to get Design a little more involved with our process. This is going slowly but we are already starting to see promising results. Our focus remains on this release.
In the meantime, we are making improvements to our organization and its ability to communicate. This is taking the form of better onboarding processes, a regular town hall meeting, more design sprints, and a clearer and more polished website. It is our hope that all of this will help people understand what we are trying to do and why it is important.
Thanks so much for your continued support.
Marc Faulise, Co-founder and Director
Mythic Table Foundation