The Mythic Table May 2021 Report!
A Glance At This Month
Kickstarter Update
Hey! As you may have heard, our Kickstarter ended on May 22nd to great success! With the help of our community we surpassed our first goal of $25,000 and ended up with a total of $31,836! Our whole team has been absolutely overjoyed at this show of support! What does all this mean? Well.. We'll be using that money to contract two of our volunteer developers, Logan, and Keith! This will speed up development of Mythic Table features substantially! So thank you for pledging and sharing about our campaign!! Here are some of the other things that your pledges have made possible: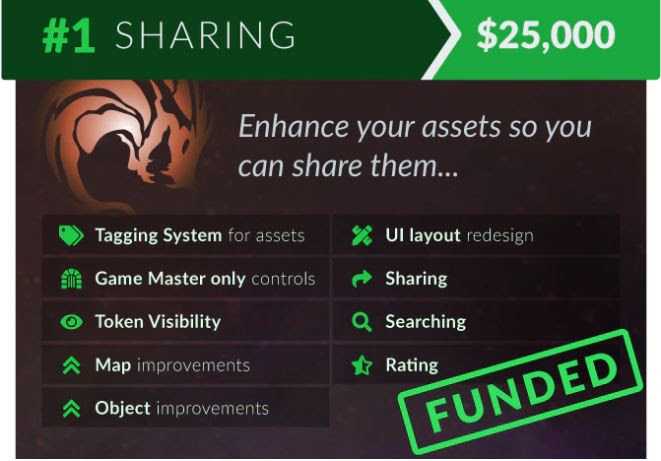 Having said that, thank you for your patience as we roll out the Kickstarter Rewards (such as discounts on the Open Gaming Store and World Anvil!) If you haven't received any communication from us, please make sure your details on Kickstarter are correct and that your pledge went through successfully. If you missed out on supporting us during the Kickstarter, you still have the option to support us via Patreon! Every dollar helps push us forward!
Achievements This Month
Our Kickstarter campaign was fully funded!
We fixed the issue where code was displaying on playing area in bottom left hand corner
We're now at 19379 unique player accounts since launching
We saw an average of 236 of you playing games on Mythic Table every day!
Plans for June
We'll be rolling out rewards for those who backed our Kickstarter campaign.
Will be improving our roadmap (hosted on website) to be more true to what we are hoping to accomplish
Grid Experience: This is a big ticket item for us. Again, we are committing to delivering a better grid experience. We want to give players a way to easily update their player grid size/configuration, but this improvement is taking some time. Hopefully Logan and Keith will be able to smash this
We'll be pushing towards fulfilling our Kickstarter goals starting with exciting features such as GM tools and Fog of War
Townhall for This Upcoming Month
We record a Townhall meeting once per Month as another way to keep you updated on what we are working on. Our next Townhall meeting is fast approaching so we would like to pose a challenge: if we reach 100 Followers on our Twitch channel before then, the dev team will live-stream our Town hall for all to ask questions and see our faces in real time! Please click here to follow us! https://twitch.tv/mythictable
Community Support
Once again, we would like to thank those who have supported us during our Kickstarter! Special thanks to:
We're sorry if we missed anyone! There have been a ton of supporters and we appreciate you all so much!
Financial Report
For full details on our operations including our financials, please refer to our Financial Reporting Page
Thanks!
And that's all for this month folks! Thank you so much for your ongoing support!
Until next time…. Roll High
Sarah K Mythic Table
Pssst! Community is everything to us. Come chat with the development team on Discord, here: https://discord.gg/gTg3BSzNWv